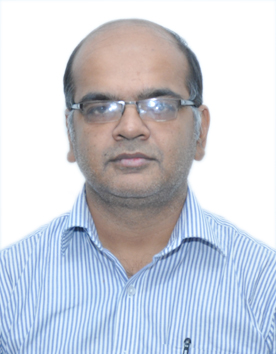 Dr. Kingshuk Sarkar
Fellow
Qualification: Ph.D., (Economics)
Phone No: 0120-2411483
; Ext: 352
Email ID: kingshuk[dot]vvgnli[at]gov[dot]in
About
Dr. Kingshuk Sarkar is presently working as Fellow in the V V Giri National Labour Institute, Noida on deputation. He primarily works for Govt. of West Bengal as Deputy Labour Commissioner. He has done PhD in Economics from Centre for Economic Studies & Planning in Jawaharlal Nehru University, New Delhi. Earlier he completed Masters in Economics from Kolkata University and M.Phil in Economics from Jadavpur University. His areas of interests are plantation economics, labour economics, law and economics, labour administration, informal sector labour, labour law etc.

Did post-graduation in Economics from Calcutta University in 1994 with specialization in International & Urban Economics. Completed M.Phil in Economics from Jadavpur University in 1998. Topic of dissertation is 'Gender & Development: The Saarc Experience'. Awarded PhD in Economics from Jawaharlal Nehru University, New Delhi. The title of the thesis is 'Production restructuring & profitability in tea plantations in West Bengal. Qualified both JRF/NET (UGC) and SLET (West Bengal)

Did Post-graduate Diploma in Personnel Management (equivalent to MBA) from National Institute of Personnel Management in 1998. Selected for Doctoral fellowship in Open category by the Indian Council of Social Science research (ICSSR), New Delhi in 2006 and availed the fellowship for two years during the course of doing PhD in Economics from JNU, New Delhi.

Served as a guest faculty in Economics, Statistics, Personnel Managements, Labour laws at State Labour Institute, Kolkata & Siliguri, Prof. Nurul Hasan Centre for Management Studies (North Bengal University), Central Board of Workers' Education, Siliguri and various other Institutes for twelve years.

Worked as Deputy Labour Commissioner, Govt. of West Bengal since April 2011 to April 2015 and deputed at Kolkata and also in charge of South 24 Parganas district. Worked as Assistant Labour Commissioner in Government of West Bengal for eleven years. Job responsibilities include implementation & enforcement of labour laws, implementation of various welfare schemes, supervision of price collection and last but not the least conciliation. Served as a Deputy Director, State Labour Institute, Siliguri for three years between October 2001 to July 2004 while posted at Siliguri as Assistant Labour Commissioner during that period.

Worked as Assistant Professor in the National Institute of Rural Development, Hyderabad on deputation. Govt. of India, in connection with works related to BPL Census 2011. Worked as guest faculty at the department of Economics, Jamia Millia Islamia, New Delhi, for two years from August 2007 to July 2009. Took courses at the post-graduate level.

He has in his credit number of publications in reputed journals. Attended and conducted numerous conferences, workshops, seminars in India and outside.