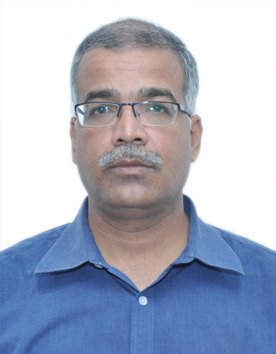 Dr. Anoop K. Satpathy
Fellow
Qualification: Ph.D. (Economics)
Phone No: 0120-2411538
; Ext: 238
Email ID: anoopsatpathy[dot]vvgnli[at]gov[dot]in
About
Dr. Anoop Satpathy is working as a Fellow (Faculty) at the V. V. Giri National Labour Institute (VVGNLI) since 2002. He is an economists by training and holds M.Phil. and Ph.D. degree in Economics from the Centre for the Study of Regional Development, Jawaharlal Nehru University (JNU), New Delhi. He has more than 20 years of research, training and monitoring and evaluation experience in the area of labour and employment with special emphasis on informal economy, wage policy and minimum wages, vocational education and skills development, social security and child labour.
He has been associated as a Member of National Level Commissions/Technical Committees such as Planning Commission Sub-Group on Creating Employment Opportunities during the 12th Five year Plan (2012-2017), Steering Committee on Training of Trainers of the Director General Employment and Training (DGET), Ministry of Labour and Employment (MoLE), Core Group for Collection and Analysis of Data in respect of Social Security to Workers (MoLE), Inter-ministerial Committee on drafting of National Employment Policy (DGET, MoLE) and Drafting Committee on Central Rules relating to Code on Wages 2019 (MoLE). He has also represented Government of India in the ILO, Geneva as an informal economy expert relating to ILO recommendation on "Transitioning from the Informal to the Formal Economy" (in 2013 and 2014) and in Delhi Group Meeting on Informal Sector Statistics (in 2017). In 2018, he also chaired the Expert Committee on Determining Methodology for Fixation of National Minimum Wage constituted by the Ministry of Labour and Employment, Government of India.
During his career at the VVGNLI, Dr. Satpathy has successfully carried out research and evaluation studies on contemporary issues of interests such as: Determining Methodology For Fixation of National Minimum Wage, Supporting Human Capital Development in Meghalaya (British Council-ADB), Impact Evaluation of Select Skills Development Programmes (SDPs) in India (World Bank), Assessment of Social Security Coverage Gap in the Formal and Informal Enterprises in India (MoLE), Assessment of Trainers Requirement of Skilling 500 million Persons, Management Review of World Bank Assisted Vocational Training Improvement Project (VTIP), Skill Gap Analysis in the Gulbarga Region of North Karnataka, Composition and Characteristics of Informal Sector (VVGNLI), Evaluation of National Child Labour Projects (MoLE, GoI), Assessing Social Security Measures and Promoting Effective Participation of Beneficiaries (UNDP), District Employment and Labour Market Assessment (ILO-SAAT) and Agency in Children and Development (IREWOC-PLAN). He has also designed and developed the first Afghan National Labour Policy (ANLP) for the Government of Afghanistan during 2012 (UNDP).
Dr. Satpathy has been the Course Director for 10 international and more than 80 national training programmes/workshops/seminars on themes such as Research Methods in Labour Economics, Informal Economy, Wage Policy and Minimum Wages, Monitoring and Evaluation of Employment Policies, Skill and Entrepreneurship Development, Leadership Development, Social Security and Child Labour. He has also been part of the VVGNLI–ITC, Turin one year Training Programme on "Employment Policies: Moving from Fragility to Resilience "for Afghan nationals and coordinated three modules on 'Labour Economics", "Youth employment moving from analysis to action" and "Migration and Employment". Dr. Satpathy has also coordinated international/national level workshops/seminar on areas such as: Child Labour in SAARC Region: Strategies and Policy Options, South-Asia Workshop on Networking of Regional Labour Institutes, Labour and Employment Trends in the North-East Region, Social Security for the Urban Poor and Informal Sector Workers, Globalisation and Child Work and Restructuring the Unorganized Sector.
He has published several papers and articles in peer reviewed journals and co-edited a book on Child Work and Education. He has been a resource person to several Universities and institutions in India and delivered special lectures at Jawaharlal Nehru University, Jamia Millia Islamia, Indian Institute of Technology, Roorkee, Andhra Pradesh-Human Resource Development Institute etc. He has also undergone training in the areas of Promoting Better Labour Market Outcomes for Youths in BRICS and Beyond, Leadership for Employment Promotion in Fragile Settings, Capacity Development Programme on Wage Policy, Child Migration and Trafficking Employment and Labour Market Policies and Improving Job Quality in Micro-Enterprises in India conducted by International Training Centre of the ILO at Turin. He is a life member of Indian Society of Labour Economics and a member of International Organisation for Collaborative Outcome Management.