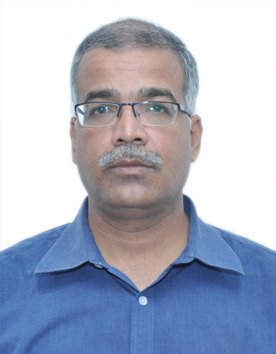 Dr. Anoop K. Satpathy
Fellow
Qualification: Ph.D. (Economics)
Phone No: 0120-2411538
Email ID: anoopsatpathy[dot]vvgnli[at]gov[dot]in
About
Dr. Anoop K. Satpathy is working as Fellow(Faculty) at the V. V. Giri National Labour Institute (VVGNLI) and coordinator of the Centre for Climate Change and Labour. He is an economist by training and has 15 years of research and training experience in the area of labour and employment with special emphasis on informal economy, vocational education and skills development, social security and child labour.
During his career at the VVGNLI, he has successfully carried out research and evaluation studies on contemporary issues of interests such as: Assessment of Trainers Requirement of Skilling 500 million Persons, Management Review of World Bank Assisted Vocational Training Improvement Project (VTIP), Skill Gap Analysis in the Gulbarga Region of North Karnataka, Composition and Characteristics of Informal Sector (VVGNLI), Evaluation of National Child Labour Projects (MoLE, GoI), Assessing Social Security Measures and Promoting Effective Participation of Beneficiaries (UNDP), District Employment and Labour Market Assessment (ILO-SAAT) and Agency in Children and Development (IREWOC-PLAN). He has also designed and developed the first Afghan National Labour Policy (ANLP) for the Government of Afghanistan during 2012. At present he is undertaking two empirical research projects relating to mapping of social security coverage in the organised and unorganised sector and analysing decline in child employment in India and potential reasons behind such decline.
He coordinates a number of national level training programmes on themes such as Research Methods in Labour Economics, Skill and Entrepreneurship Development, Leadership Development, Social Security and Child Labour and one international training programme on Skill Development and Employment generation on an annual basis. In addition, Dr. Satpathy has also coordinated international/national level workshops/seminar on areas such as: Child Labour in SAARC Region: Strategies and Policy Options, South-Asia Workshop on Networking of Regional Labour Institutes, Labour and Employment Trends in the North-East Region, Social Security for the Urban Poor and Informal Sector Workers, Globalisation and Child Work and Restructuring the Unorganized Sector.
He has published several papers and articles in peer reviewed journals and co-edited a book on Child Work and Education. He has undergone training in the areas of Child Migration and Trafficking Employment and Labour Market Policies and Improving Job Quality in MicroEnterprises in India conducted by International Training Centre of the ILO at Turin. He has also represented Government of India as informal economy expert in the ILO Tripartite Meeting of Experts on Formalising the Informal Economy during September 2013 at Geneva.
He has been nominated as a Member to the Planning Commission Sub-Group on Creating Employment Opportunities during the 12th Five year Plan (2012-2017), Steering Committee on Training of Trainers of the Directorate General Employment and Training, Ministry of Labour and Employment (MoLE) and Core Group for Collection and Analysis of Data in respect of Social Security to Workers (MoLE). He is a life member of Indian Society of Labour Economics and Country Representative, and International Organisation for Collaborative Outcome Management.