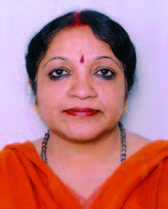 Dr. Poonam S. Chauhan
Senior Fellow
Qualification: M.A., Ph.D. (Psychology)
Phone No: 0120-2411486
; Ext: 218
Email ID: poonamchauhan[dot]vvgnli[at]gov[dot]in
About
Dr. Dr. Poonam S. Chauhan holds a Doctorate Degree in Psychology with specialization in "Organizational Behaviour", from Indian Institute for Technology, Delhi. Her main areas of professional interest include - agrarian relations, land reforms and impact on rural labour, action research, organising rural labour, gender issues in labour, women in farm/non-farm sector and social security. She has about 24 years of experience in research and training in labour studies. She is on the various committees of the Institute. Dr. Chauhan was the VVGNLI representative in task force on 'Domestic Workers', at DGLW. She has attended several national/international conferences, one of the conference in Manila, Philippines, organised by ADB Manila. She has undertaken research projects mainly for the workers in the unorganized sector such as: Occupational Segregation by Sex: A Study in Indian Labour Market (Part I) (Secondary data based investigation) (mimeo), Occupational Segregation by Sex: A Study in Indian Labour Market (Part II) (Primary data based research) (mimeo), Gender: Concept, Context and Impact, Secondary data based study, as part of NLI's 'Gender Issues in Labour Project. (mimeo). Empowerment of Rural Labour with reference to Rural Artisans: Towards Evolving A Strategy — An Action Research Project (mimeo). Women Labour in India: A Comprehensive Manual (Project sponsored by the Ministry of Labour, Govt. of India. Cooperative Rural Development Information Network — A Study (mimeo)
Training Manual for DWCRA Group Organisers. Development of Women and Children in Rural Areas & Employment Assurance Scheme — An Evaluation Study. Organising Rural Labour for Effective Participation in Development: A Report of Khurja Block, Bulandshahar, Uttar Pradesh, Handbook on Women Labour in India, Handloom Workers: An Inquiry into Their Conditions and Circumstances of Work and Organisation - A Preliminary Report. Women and Development – A Balance Sheet. Effective Implementation of Social Security: An Action Research Project, Madhya Pradesh, Effective Implementation of Social Security: An Action Research Project, West Bengal, Agrarian Relations in Rajasthan. Changing Rural Landscape: A case study of village Bujawar, Jodhpur, Rajasthan. VVGNLI Research Series 2007. Fishery Sector and Fish Workers in India: An overview, VVGNLI Research Series 2007. Handbook of Women Labour in India, VVGNLI Publication, 2007. The Study of Schedule of Rates for National Rural Employment Guarantee Scheme: An assessment study (MORD). Towards Evolving Suitable Measures for Enhancing Road Transport. Workers: Living and Working Conditions with Special Reference to Improving the Road Transport System. Developing Effective Strategies and Techniques for Creating Awareness and Organization for Development of Rural Workers in India: An Action Research Project (MORD). Marine Fishery Industry and Marine Fish Workers in India: A Study with Special Reference to Exploring Employment Potentials in the Sector. A Study of Welfare Measures for Beedi Workers in Bangalore and Hyderabad Regions. Augmentation of Avenues & Opportunities for Meaningful Employment of the Physically Challenged: A Study. Social Security Measure for Informal Sector Workers: A Study of Some Selected Programmes and Schemes in Maharashtra and West Bengal.
She has published substantial number of articles in various in-house regular publications of the Institute and in external journals, and also in edited books, documented experiences in the area of organising rural labour in the form of NLI research studies series. She has also authored and edited books both individually and with other authors of her books are: The lengthening shadows – Status of Women Workers in India. Human Rights and Human Development, Women and Development in India: A Balance Sheet.
She coordinates paid programmes on – Empowering Trade Union Leaders, Behavioural Skills for Developing Effective Leadership and Behavioural Skills for Managing Work Effectively. She also coordinates International Programmes on Leadership Development. Apart from these, she also coordinates rural programmes, rural labour camps and training for beedi, transport and fish workers' organisers, and social security programmes. She has coordinated several TOT Programmes for MGNREGA Workers. Her expertise pertains to subjects like Leadership, Communication, Decision Making, Team Building, Interpersonal Trust, Conflict Management, Time Management, Organizational Stress and Group Dynamics, etc.