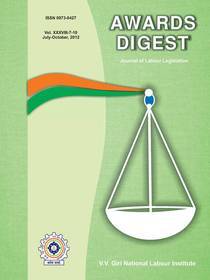 Awards Digest July-Oct 2012
Editor: Dr. Onkar Sharma ,
Publisher: V.V. Giri National Labour Institute
Serial No: ISSN 0973-0427
Period: July-2012 to October-2012
Book Description
1. Contract Labour System: Law & Practices in India
~Dr. Onkar Sharma
2. Consumer Price Index Numbers
3. Decisions of the Supreme Court
- Regional Provident Fund Commissioner v Hooghly Mills Co. Ltd.
- Anil Gilurker v Bilaspur Raipur Kshetriya Gramin Bank
- Burdwan Central Co-operative Bank Ltd. v Asim Chatterjee
4. Decisions of the High Court
Allahabad
- Ramesh Singh v Agragami Keshetra Vikas Agency, Kanpur
- Ramji Pandey v Presiding officer, Labour Court
Andhra Pradesh
- Sirpur Paper Mills Ltd. v ESIC, Hyderabad
Bombay
- American Express Bakery v Regional Fund Commissioner
- Bharat Petroleum Corporation Ltd. v Petroleum Workmen's Union, Thane
- IDBI Karamchari Sangh v IDBI Bank Limited
Calcutta
- Statesmen Ltd. v First Industrial Tribunal, West Bengal
Delhi
- Container Corporation of India Ltd. v Sanjeev Kumar
- Group 4 Securities Guarding Ltd. v Employees Provident Fund Appellate Tribunal
- Sukhdev Singh v D.D.A.
Gauhati
- National Insurance Co. Ltd. v Santosh Kumar Singh
Gujarat
- Anvar Khan Ghafur Khan Pathan v Transport Manager
Himachal Pradesh
- Chaudhary Sarwan Kumar, Himachal Pradesh Krishi Vishvavidhalaya, Palampur v Nagpur
Jharkhand
- Metrograph Company Private Limited v State of Jharkhand
Karnataka
- Bangalore Metropolitan Transport Corporation Bangalore v Gaffer Khan
- Regional Director, ESI Corporation, Bangalore v Karnataka Cooperative Milk Produces Federation Ltd., Bangalore
Kerala
- Cochin Shipyard Ltd. v Government of Kerala
- Employees Provident Fund Organisation v Employees Provident Fund Appellate Tribunal
Madhya Pradesh
- S.K. Gaur v Dena Bank, Bhopal
Madras
- Jay Shree Tea & Industries Ltd. v Dy. Commissioner of Labour, Coimbatore
- Management of MRF Ltd. v P.O. Second Addl. L.C., Chennai
- Manager, Pokkuvaratha Kazhaga Oozhier Munnetra Sangham v Govt. of Tamil Nadu
- Kidathirukkai Primary Agriculture Co-operative Bank v R.P.F, Madurai District.
- Society of the Franciscan Sisters of St. Joseph v State of Tamil Nadu
Patna
- Mrs. Prabha Shukla v State of Bihar
Punjab & Haryana
- United India Insurance Co., Ltd. v Vijay Kumar
Rajasthan
- Mahendra Shah v Baldev Singh
Book Specification
| | |
| --- | --- |
| Title | Awards Digest July-Oct 2012 |
| Patron | Shri Ved Prakash Yajurvedi |
| Editor | Dr. Onkar Sharma |
| Associate Editor | Dr. Onkar SharmaDr. Dhanya M B |
| Publisher | V.V. Giri National Labour Institute |
| Period | July-2012 to October-2012 |
| Serial Number | ISSN 0973-0427 |
| Number of Pages | 71 |
| Journal Volume | XXXVIII |
| Journal Number | 7-10 |