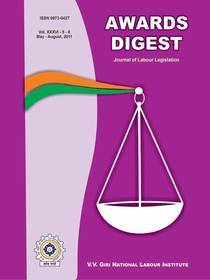 Awards Digest May-Aug 2011
Editor: Dr. Onkar Sharma ,
Publisher: V.V. Giri National Labour Institute
Serial No: ISSN 0973-0427
Period: May-2011 to August-2011
Book Description
1. Industrial Jurisprudence in Vedic and Ancient Literature
~Dr. Onkar Sharma
2. Consumer Price Index Numbers
3. Decisions of the Supreme Court
- Kuldeep Singh Vs. G.M., Instrument Design Development and Facilities Centre and Another
- State Bank of India Vs. Bidyut Kumar Mitra and Others
- Chairman and M.D., Indian Overseas Bank and Others Vs. Tribhuwan Nath Srivastava
- Arundhati Ashok Walavalkar Vs. State of Maharashtra
- Union of India and Others Vs. Vartak Labour Union
- Paramjit Singh Vs. Director, Public Instructions and Others
4. Decisions of the High Courts
Allahabad
- Scooter India Ltd. Vs. Presiding Officer, Labour Court and Another
- Pawan Kumar Yadav Vs. State of U.P. and Others
Bombay
- Bharat Petroleum Corporation Ltd. and Another Vs. State of Maharashtra and Another
- Rajman Shrikrishna Morya Vs. Marshal Security Pvt. Ltd.
- Maharashtra General Kamgar Union, through its Joint Secretary and Others Vs. Pix Transmissions Ltd. and Another
- Regional Director, ESIC Vs. Kohinoor
- ICICI Bank Ltd. and Others Vs. State of Maharashtra and Another
- Air India Ltd., Mumbai Vs. Ms. Shashikala Jatav and Another
Calcutta
- Central Bank of India and Another Vs. Kashi Nath Chakraborty
Delhi
- Employees State Insurance Corporation Vs. Sea Hawk Caro Carriers Pvt. Ltd.
Gauhati
- State of Nagaland Vs. Rongsen Ao
Gujarat
- New India Assurance Co. Ltd Vs. Ashwin Chimanlal Shet and Others
- Vasantbhai Bhudarbhai Parmar Vs. Manager, Arvind Intex
Himachal Pradesh
- Oriental Insurance Company Ltd. Vs. Bimla Devi @ Bindu and Another
- Himachal Pradesh State Electricity Board and Another Vs. Laxmi Devi and Another
- Amar Singh Vs. Himachal Pradesh State Electricity Board and Others
- Manmohan Prasad Vs. H.P. State Small Scale Industries and Export Corporation Ltd.
Jharkhand
- Mahalakshmi Fibres & Industries Ltd. and Another Vs. Santosh Tiwari and Others
- Syam Lal Vs. Central Coalfield Ltd. and Others
Karnataka
- Louis Martis, Mangalore – 575 007 Vs. Louis Korrea and Another
Kerala
- K.H.R.W.S. Employees Federation Vs. K.H.R.W Society
Madhya Pradesh
- Satendra Singh Gujar Vs. Bank of India, Gwalior and Others
Madras
- Tiruchirappalli North Sarvodhaya Sangam, rep. by its Secretary, Trichy – 2 Vs. Secretary to Government, Labour and Employment, Government of Tamil Nadu, Chennai and Others
- A.R.A. Khuddus Chippi Beedi Company, rep. by its Managing Partner, Trichy Vs. Union of India rep. by its Secretary, New Delhi and Others
- Poineer Spinners, rep. by its General Manager Vs. Regional Labour Commissioner, Central Chennai and Others
Punjab & Haryana
- Chet Ram Vs. Presiding Officer, Industrial Tribunal-cum-Labour Court – I, Faridabad and Another
Uttarakhand
- Sanat Kumar Vijjan Vs. UCO Bank and Others
Book Specification
| | |
| --- | --- |
| Title | Awards Digest May-Aug 2011 |
| Patron | Shri Ved Prakash Yajurvedi |
| Editor | Dr. Onkar Sharma |
| Associate Editor | Dr. Onkar SharmaDr. Rinju Rasaily |
| Publisher | V.V. Giri National Labour Institute |
| Period | May-2011 to August-2011 |
| Serial Number | ISSN 0973-0427 |
| Number of Pages | 68 |
| Journal Volume | XXXVII |
| Journal Number | 5-8 |