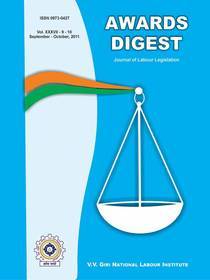 Awards Digest Sep-Oct 2011
Editor: Dr. Onkar Sharma ,
Publisher: V.V. Giri National Labour Institute
Serial No: ISSN 0973-0427
Period: September-2011 to October-2011
Book Description
1. Worker's Participation in Management
~Dr. Onkar Sharma
2. Consumer Price Index Numbers
3. Decisions of the Supreme Court
- Palraj Vs. Divisional Controller, NEKRTC
- Mamtaj Bi Bapusab Nadaf and Others Vs. United Insurance Company Co. and Others
- Local Administration Department and Another vs. M Selvanayagam @ Kumaravelu
- U.P. State Textile Corporation Ltd. vs. Suresh Kumar
- State Bank of Mysore and Others vs. M C Krishnappa
4. Decisions of the High Courts
Allahabad
- U.P. Bhumi Sudhar Nigam, Lucknow Vs. Appellate Authority and Others
- Fertilizer Corporation of India Ltd., G Unit Vs. Authority under M.W.A.C. for W.A.L.C. and Others
- Ramawati Devi Smt. Vs. State of U.P. and Others
- Super Cassettes Industries Ltd. Vs. State of U.P. and Others
- U.P. State Road Transport Corporation Vs. Satendra Singh and Another
- Roadways Mazdoor Sabha, U.P. and Another vs. State of U.P. and Others
- U.P. Power Corporation Ltd., Urban Electricity Transmission Division II, Allahabad vs. Urmila Devi
Bombay
- Shubhada Phansekar Vs. Travel Corp (India) Ltd. and Others
- Maharashtra State Electricity Distribution Company Limited thro' its Controller of Vehicles Workshop, Pune vs. Vishwanath Shankar Sadafule and Others
- Somayya S. Bhandari and Others vs. Oriental Rubber Industries Ltd.
Delhi
- Prem Nath Yadav vs. Chandra Bose and Others
- Gorakhnath vs. Union of India and Others
- Professional Assistance for Development Action vs. Presiding Officer, EPF Appellate Tribunal and Another
- Mohan Singh and Others vs. Chairman, Railway Board and Others
- Hi-Tech Vocational Training Centre vs. Assistant Provident Fund Commissioner
Gujarat
- Gujarat Water Supply & Sewerage Board and Another vs. Bipinchandra N. Ramanuj
- Bomin Private Ltd. vs. Assistant Provident Fund Commissioner
Himachal Pradesh
- Pawna Thakur and Another vs. Chinti and Others
- Jagdish Chand vs. Managing Director, H.R.T.C and Others
Karnataka
- National Insurance Co. Ltd. Bangalore vs. Zaheeda Banu and Others
- Oriental Insurance Co. Ltd. Davangere vs. Shafi @ Shafiullah and Another
- Jayalakshmi M. Shetty and Others vs. Ramesh and Another
Madhya Pradesh
- Mathura Prasad Yadav Vs. State of MP
- Surya Roshni Ltd. vs. Employees' Provident Fund and Another
Madras
- Hindustan Unilever Employees Union, Pondicherry Vs. Inspector of Factories, Pondicherry and Others
- Union of India (rep. by Chief Workshop Manager), Carriage and Wagon Works, Southern Railway, Madras Vs. Registrar, Industrial Tribunal, Tamil Nadu, Chennai and Another
- Managing Director, Tamil Nadu State Transport Corporation (Villupuram) Ltd., Kancheepuram Region vs. Presiding Officer, I Additional Labour Court, Chennai and Another
Patna
- Dhananjay Kumar Singh Vs. State of Bihar and Others
Punjab & Haryana
- Adani Agri Logistics Ltd. and Another vs. State of Haryana and Others
- Assistant Provident Fund Commissioner, Gurgaon vs. G4S Security Services (India) Ltd. and Another
Uttarakhand
- Kisan Shakar Chini Mills Ltd. Vs. Basant Kumar Joshi S/o Late Hari Krishna Joshi
Book Specification
| | |
| --- | --- |
| Title | Awards Digest Sep-Oct 2011 |
| Patron | Shri Ved Prakash Yajurvedi |
| Editor | Dr. Onkar Sharma |
| Associate Editor | Dr. Onkar SharmaDr. Rinju Rasaily |
| Publisher | V.V. Giri National Labour Institute |
| Period | September-2011 to October-2011 |
| Serial Number | ISSN 0973-0427 |
| Number of Pages | 60 |
| Journal Volume | XXXVII |
| Journal Number | 9-10 |