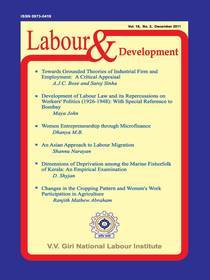 Labour & Development Dec 2011
Editor: ,
Publisher: V.V. Giri National Labour Institute
Serial No: ISSN 0973-0419
Period: Dec 2011
Book Description
Towards Grounded Theories of Industrial Firm and Employment: A Critical Appraisal
-A.J.C. Bose and Saroj Sinha
Development of Labour Law and its Repercussions on Workers' Politics (1926-1948): With Special Reference to Bombay
-Maya John
Women Entrepreneurship through Microfinance
-Dhanya M.B.
An Asian Approach to Labour Migration
-Shannu Narayan
Dimensions of Deprivation among the Marine Fisherfolk of Kerala: An Empirical Examination
-D. Shyjan
Changes in the Cropping Pattern and Women's Work Participation in Agriculture
-Ranjith Mathew Abraham
Book Specification
| | |
| --- | --- |
| Title | Labour & Development Dec 2011 |
| Patron | Shri Ved Prakash Yajurvedi |
| Associate Editor | Dr. Ruma GhoshDr. Otojit Kshetrimayum |
| Publisher | V.V. Giri National Labour Institute |
| Period | Dec 2011 |
| Serial Number | ISSN 0973-0419 |
| Number of Pages | 116 |
| Journal Volume | 18 |
| Journal Number | 2 |