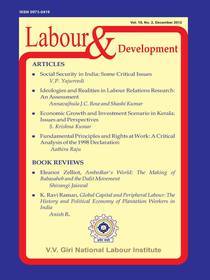 Labour & Development Dec 2012
Editor: ,
Publisher: V.V. Giri National Labour Institute
Serial No: ISSN 0973-0419
Period: Dec 2012
Book Description
ARTICLES
Social Security in India: Some Critical Issues
-V.P. Yajurvedi
Ideologies and Realities in Labour Relations Research: An Assessment
-Annavajhula J.C. Bose and Shashi Kumar
Economic Growth and Investment Scenario in Kerala: Issues and Perspectives
-S. Krishna Kumar
Fundamental Principles and Rights at Work: A Critical Analysis of the 1998 Declaration
-Aathira Raju
BOOK REVIEWS
Eleanor Zelliot, Ambedkar's World: The Making of Babasaheb and the Dalit Movement
-Shivangi Jaiswal
K. Ravi Raman, Global Capital and Peripheral Labour: The History and Political Economy of Plantation Workers in India
-Anish R.
Book Specification
| | |
| --- | --- |
| Title | Labour & Development Dec 2012 |
| Patron | Shri Ved Prakash Yajurvedi |
| Associate Editor | Dr. Ruma GhoshDr. Otojit Kshetrimayum |
| Publisher | V.V. Giri National Labour Institute |
| Period | Dec 2012 |
| Serial Number | ISSN 0973-0419 |
| Number of Pages | 152 |
| Journal Volume | 19 |
| Journal Number | 2 |