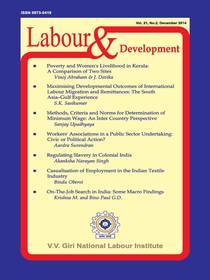 Labour & Development Dec 2014
Editor: ,
Publisher: V.V. Giri National Labour Institute
Serial No: ISSN 0973-0419
Period: Dec 2014
Book Description
Poverty and Women's Livelihood in Kerala: A Comparison of Two Sites
-Vinoj Abraham & J. Devika
Maximising Developmental Outcomes of International Labour Migration and Remittances: The South Asia–Gulf Experience
-S.K. Sasikumar
Methods, Criteria and Norms for Determination of Minimum Wage: An Inter Country Perspective
-Sanjay Upadhyaya
Workers' Associations in a Public Sector Undertaking: Civic or Political Action?
-Aardra Surendran
Regulating Slavery in Colonial India
-Akanksha Narayan Singh
Casualisation of Employment in the Indian Textile Industry
-Bindu Oberoi
On-The-Job Search in India: Some Macro Findings
-Krishna M. and Bino Paul G.D.
Book Specification
| | |
| --- | --- |
| Title | Labour & Development Dec 2014 |
| Patron | Shri Partha Pratim MITRA |
| Associate Editor | Dr. Ruma GhoshDr. Otojit Kshetrimayum |
| Publisher | V.V. Giri National Labour Institute |
| Period | Dec 2014 |
| Serial Number | ISSN 0973-0419 |
| Number of Pages | 172 |
| Journal Volume | 21 |
| Journal Number | 2 |